PhotoSweeper is a handy utility for quickly organizing photos on your Mac. The app aims to help trim down your photo library by analyzing your photos and finding duplicate and similar images. See all Mac Apps.
Here's how it works: Drag and drop single images or entire folders of images into the app (you can add images from almost any location on your computer—iPhoto, Apperture, Lightroom, and even external devices), and then specify how you want to compare these images. PhotoSweeper quickly analyzes them to find similar and duplicate images, which are grouped together. From there, you can move, delete, or rename your images. See also Typist 2.2.0 review.
There are six different options available for comparing your photos, depending on how closely you want to look at them. You can compare by Bitmap, Histogram, Time Interval, Time and Bitmap (which is the default search setting), Time and Histogram, or Duplicates, which will find only exact duplicates. Read Token 1.3.1 review.
The ability to choose exactly how you want to compare your photos is a crucial part of what makes PhotoSweeper such a useful and effective utility—you can ensure that you are going through your photos with as much precision as you want. Visit Group test: what's the best compact camera?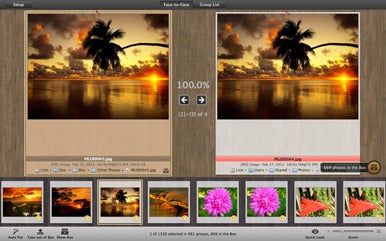 For example, I can choose to be less specific and compare by Time and Bitmap with my vacation photos where I may have five or six similar photos of the same thing when, in reality, I only need one. But if I am sorting through a large group of photos that may have many similar images—like from a photoshoot—I can choose to find only the exact duplicates. This is also a useful feaure if you have photos stored in multiple locations and programs.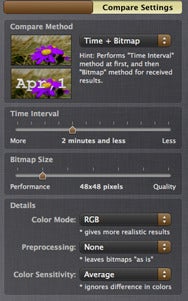 Depending on the method you choose, you can specify additional search details, like color mode, bitmap size, and time interval. A slider at the bottom controls whether you want to find photos that match partially, exactly, or somewhere in between.
After you choose the settings you want, click compare and PhotoSweeper will begin to analyze all of the selected photos. I was impressed at how quickly the app analyzes images—I compared more than a gigabyte of images and the whole process took about 20 seconds.
When the analysis is complete, similar or duplicate images are grouped together. Select extraneous or unwanted photos and drag them to the Box. Once the photos are in the Box you can choose to move them to the trash, move and rename them, or copy and rename them.