The Acer Aspire S5 is a special kind of ultraportable notebook. That's not for its shape or style though – building a clone of the Apple MacBook Air is rapidly becoming passé for Microsoft's hardware partners.
See: more ultraportable reviews.
Asus, Dell, HP, Samsung, Sony are all blindly trotting out these identibooks, spurred on by financial carrots dangled by Intel to companies that buy its processors to make thin'n'light Applesque Ultrabooks™.
What makes the Acer Aspire S5 ultrabook very special is its Thunderbolt connectivity. Yes, the S5 is the first Windows laptop to feature the high-speed I/O developed by Intel and Apple.
In fact, the Acer Aspire S5-391-53314G25akk, to give it its full name, is the first commercially available Windows PC in the UK of any type to sport this versatile connector.
Thunderbolt is specified to operate with two data lanes, each up to 10Gbps; meanwhile, super-speed USB 3.0 has a signalling rate of 5Gbps. Thunderbolt is the fastest interface available to desktop computers, and until its recent re-engineering for use over copper wiring, it was a futuristic optical interface called Light Peak.
Acer hides that digital light on the Aspire S5 under a motorised bushel around the back of the laptop.
In normal closed mode, the Aspire S5 is just 18mm thick. Press a button in the top-right corner of the keyboard deck, and the whole laptop rises up by 6mm – a hinged section on the base slides open to expose a row of modern ports: HDMI, two USB 3.0, and Thunderbolt. Acer calls this MagicFlip.
The slide-down port bay is another way to differentiate the Aspire S5 from every other ultrabook, and a real party-piece to show your friends. Shame then that the crunching and whirring noises this mechanical flap makes as it operates makes it sound like it's about to grind to a halt, every time you use it.
Elevating the rear by just those few millimetre also has the benefit of making typing a touch easier too.
When the laptop sleeps, it will also retract itself after a few seconds, unless there's anything plugged in the back.
Acer Aspire S5: Specs and features
Acer has clearly earmarked the Aspire S5 as its premium ultraportable. Where many such laptops are cheapened with plastic construction, the S5 is all metal, an aluminium chassis finished in satin black. Only the screen bezel is a plastic fitting, and thankfully, it has a matt finish.
Sadly the screen itself is a low-grade gloss display. The panel is 13.3in on the diagonal, but lower resolution than the Air at 1366 x 768 pixels.
It's bright enough at maximum but contrast is below average. Image quality also quickly deteriorates when viewed from the side. And viewing is very poor or impossible when you're observing from above or below the screen.
The trackpad tries to follow the Apple blueprint, a large buttonless type measuring 97 x 76mm, against the MBA's 105 x 76mm. It has a pleasant semi-smooth finish, but it's crudely let into the top plate, with visible air gaps through the chassis.
Keyboard is the familiar Scrabble style, flat-topped black keys with white legends. These keys have very little travel, although we found we could touch type quite rapidly enough with few errors. Our sample had a bizarre pan-European keyboard with just about every diacritical mark enscribed across all its keys.
Otherwise, button placement is quite standard, with the now-familiar inverted-T for the cursor arrows, supplemented with dedicated PgUp and PgDn keys just above the horizontal arrows.
Like the Air, there are no visible speaker grilles, and sound instead leaks out through the keyboard.
The slim and sculpted bodiwork means there's little space for portage on the sides, hence the extending panel at the rear. But the left side does include an SD card slot, and an awkward-to-find Power button; it's all too easy to reach for the MagicFlip button, sitting in the usual Power button position, until you remember the hidden key on the side.
The right side has a headset jack, a pinhole for hard reset via paperclip, and a pair of holes that may be for a non-Kensington locking solution.
Acer Aspire S5: Performance
Acer's choice of processor is a good one: the 1.7GHz Intel Core i7-3317U, first used in this year's 11in MacBook Air, is a powerful dual-core chip with Hyperthreading, boosting to 2.6GHz for quick Turbo bursts. Its specified thermal design power (TDP) is 17W, and it certainly helps propel many an ultrabook without overly noisy fan cooling.
In our real-world testing with WorldBench 6, the Acer Aspire S5 scored a very creditable 136 points. That's a terrific score for the processor/memory combination, almost certainly helped along by the storage configuration: two 128GB mSATA SSDs in RAID 0 mode.
The use of Intel's integrated graphics processor is not the disappointment it once was – we saw a just-playable 28fps from FEAR at Maximum detail.
We stretched the Acer Aspire S5 further with Crysis, starting with kinder settings. Set to 1024 x 768, Low detail and DirectX 9, it averaged 54fps. Setting resolution closer to native and upping the detail, it played at 21fps at 1280 x720, Medium and DirectX 10.
As a guide to raw processor and memory performance, we ran Geekbench 2, which returned an average of 7293 points. That's a pretty speed result for a modestly sized laptop.
For comparison, last year's 2.3GHz Mac mini with Intel graphics scored 6481, while the 2.5GHz Core i5 model hit 7038 points.
In the all-important test of battery runtime, MobileMark 2007 indicated a lifetime of just over 6 hours (243 mins), a good result which is quite typical now for the class of laptop.
NEXT PAGE: Original PCWorld US review >>
If you're looking for an Ultrabook with the superslim good looks of a MacBook Air, enough computing oomph to handle multimedia and general business tasks, plus a good-enough battery life, take a long hard look at the Acer Aspire S5. Especially the superslim good looks part. See also Asus Zenbook UX21E-DH52.
The S5 is less than three quarters of an inch at its thickest and weighs 2.6 pounds--impressively light for a notebook with a 13.3-inch display. In almost every way, the S5 fulfills the promise of the Ultrabook as articulated by Intel: It's extremely portable, very fast, and endowed with decent battery life. Vsiit Group test: what's the best ultrabook laptop?
True, you can find several Ultrabooks with better battery life, and maybe one or two with superior performance--and the Aspire S5 has its fair share of minor drawbacks. But none of the ones we've seen are thinner.
That's thanks in no small part to an innovative motorized panel that Acer calls the MagicFlip, which rolls down to conceal ports on the rear bottom edge. This both protects them when not in use and slims down the S5's profile so it's both thinner and lighter than the current 13.3-inch MacBook Air. But the motor makes a somewhat grating noise, and sometimes it seemed to roll up of its own volition. Also, I worry that the motor, activated by a button on the top right of the platen, adds one more part that could break.
Configured with one of Intel's fastest current ultraportable CPUs, the Core i7-3517U running at 1.9GHz (with a maximum turbo speed of 3GHz), 4GB of RAM, integrated HD 4000 graphics, a 256GB solid-state drive, and the 64-bit edition of Windows 7 Home Premium, the Aspire S5 is on the pricey side at £1,249 (as of July 24, 2012), but not spectacularly so for its components (especially the SSD).
That solid-state drive, combined with the Core i7 Ivy Bridge Ultrabook CPU, helped the S5 to its highly respectable overall performance score of 82, on a par with other top performers on our Ultrabook chart, including the Dell XPS 13. That overall score includes the S5's stratospheric 195 on our WorldBench 7 test suite, thanks mostly to its spectacular startup and hard-drive file operation scores, which typically rise dramatically with SSDs. Other scores that contribute to WorldBench were also generally above average, although not enormously so.
It's worth noting that the S5 did very well in our gaming tests, even though it has no discrete graphics. Hard-core gamers can, of course, do better, but general users who want to sneak in the occasional Dirt 3 session shouldn't be put off. The Aspire S5's 5.5-hour battery life is about average for its class and screen size: It won't get you across the Atlantic or the Pacific, but should be sufficient for most transcontinental flights.
The S5's good looks don't stop with its black brushed aluminum exterior. Most of the chassis is fashioned from a magnesium-aluminum alloy that feels smooth and surprisingly solid on the inside, given how thin the notebook is. However, the bottom does get a bit warm after prolonged use.
The keyboard is nothing special. Keys are a tad mushy and very slippery, and they have no backlighting. But Acer uses a conventional layout so at least they're located where you expect them to be. The clickable Elan touchpad is roomy, smooth, and precise, but if, like me, you prefer a conventional mouse, Acer has been kind enough to include a Bluetooth mouse. That's definitely unusual in laptop land.
The port lineup departs a bit from the usual Ultrabook offering, most notably with the inclusion of aThunderbolt port--a relatively new and small I/O port, found in current Macs and MacBooks, that provides high-speed powered connectivity for a wide range of peripherals and displays. The Thunderbolt port on the S5 is the furthest to the right in the area covered by MagicFlip; the others, from left, are an HDMI and two USB 3.0 ports. The MagicFlip panel also conceals a fan vent.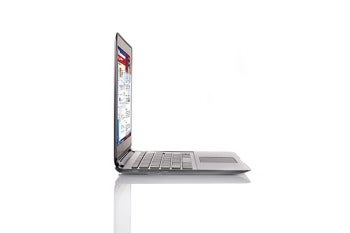 The curved edges house a couple of buttons, too. The power on/off button is located toward the back corner of the left edge, right behind an SD/MMC card reader; on the right edge, the headset jack sits behind a paper-clip-size reset hole, something you don't usually see on notebooks. Speaking of unusual features (once again), Acer throws in an HDMI-to-VGA cable, too, so you can hook up the S5 to a conventional monitor.
The Aspire S5 proved pleasingly capable with multimedia. YouTube videos looked smooth on the 1366-by-768 LED-backlit display, which had a great horizontal field of vision and a decent vertical one as well. Even more impressive was the Dolby Home Theater enhanced audio system, which produced music and voice chat far more robust than you get on most notebooks.
Skype video calls using the embedded, 1.3-megapixel webcam also looked smooth and sounded good. The webcam did a good job of adjusting to a low-light situation.
Acer also deserves kudos for giving the Aspire S5 dual-band Wi-Fi support: Access to the 5GHz band as well as the original (and increasingly crowded) 2.4GHz band helps compensate for the lack of an ethernet port, an annoying omission that's become increasingly common in Ultrabooks.
Aside from the small quibbles mentioned above, and the obvious limited storage of the SSD, the most irritating thing about this generally first-rate laptop is its software bundle, which is unfortunately heavy on bloatware and marketing ware. I'm as much in favor of antivirus protection as the next guy, but those pop-up McAfee free-trial windows (which you can shut down only by uninstalling the app) are really starting to make me see red. And Acer's Clear.fi image-sharing software lets you easily share photos and videos with other devices on your network--as long as they too support Clear.fi--what are the odds?
Still, you can uninstall undesired software, and there's so much to like about this sexy, skinny Ultrabook that it's hard to hold a grudge. Acer has done right by Intel's Ultrabook vision.
PCWorld US Verdict
The sleekly designed Acer Aspire S5 Ultrabook poses one of the most credible threats to the MacBook Air we've seen to date.
Yardena Arar
Acer Aspire S5: Specs
1.7GHz Intel Core i5-3317U
Intel HD Graphics 4000
13.3in (1366 x768) gloss LCD
Windows 7 Home Premium 64-bit
4GB DDR3 RAM
256GB SSD
Thunderbolt
2x USB 3.0
HDMI
802.11a/g/n
Bluetooth 4.0
headset jack
HD webcam
SD card slot
4-cell 35Wh lithium polymer, non-removable
97 x 66m trackpad
322 x 226 x 15.5-23.5mm (18.0mm thick, hatch closed)
1185g
1.7GHz Intel Core i5-3317U
Intel HD Graphics 4000
13.3in (1366 x768) gloss LCD
Windows 7 Home Premium 64-bit
4GB DDR3 RAM
256GB SSD
Thunderbolt
2x USB 3.0
HDMI
802.11a/g/n
Bluetooth 4.0
headset jack
HD webcam
SD card slot
4-cell 35Wh lithium polymer, non-removable
97 x 66m trackpad
322 x 226 x 15.5-23.5mm (18.0mm thick, hatch closed)
1185g
OUR VERDICT
We applaud the addition of Thunderbolt, which expands connection possibilites with a growing range of high-speed peripherals. MagicFlip, the motorised port bay is also a very neat idea, if applied with an annoying mechanism that always sounds stressed. The rest of the laptop is near-standard ultrabook fare, down to the sub-standard display and copycat components specifications shared with almost every other model. Thunderbolt may bring the S5 closer in spec to the MacBook Air that inspired it, but an extra £100 buys a real MacBook Air with the same 256GB storage capacity, but a decent screen and far better build quality.